Maximise Your E-commerce Potential with Our Expert Google Shopping Ads Management
We can help ensure your products take centre stage on Google Shopping. Our bespoke Google Shopping Ads management service is the spotlight your online store needs, drawing in targeted shoppers and converting clicks into paying customers.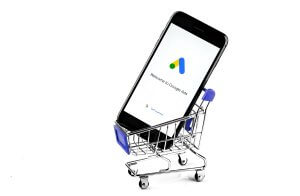 Why Google Shopping Ads? Google Shopping Ads place your products directly in view of potential buyers searching for what you offer. It's visual, it's effective, and it's essential for e-commerce success.
How Shopping Ads appear on Google
Our Service – Your Success
Strategic Product Showcase: We meticulously craft your ads to display the most relevant products, ensuring they capture attention and inspire action.
Merchant Centre Mastery: Our team handles the complexities of Google Merchant Centre, from product feed optimisation to seamless integration with your inventory.
Data-Driven Decisions: Leveraging analytics, we continuously refine your campaigns for peak performance, driving down costs while scaling up your results.
Dedicated Support: We are your partner in progress. We provide personalised service with regular updates and insights, keeping you in the loop and ahead of the competition.
Google Certified Partner: We are a Google Certified Partner, this means our team of Google Shopping experts have the skills and experience to deliver high impact campaigns that will make a difference to your business.
Start Today Your business can thrive with our Google Shopping Ads management service. Contact us now on 01252 329160 or by email to [email protected], and let's put your products in the spotlight.
Tell us about your website
We love looking at websites and will tell you how to improve your Google position.

<!- latest-post -->