Case Study
The client: ProCoat UK Ltd (CeilCote)
Ceilcote is a specialist on-site spraying company that provides paints and coating applications to ceilings, walls and other surfaces. Among their clients are many national and global businesses for example Rank Xerox, British Gas and Moat House Hotels. The company was formed 27 years ago and now rely on the internet for 100% of their business. A good SEO partner is therefore vital to the success and growth of the company.
Dean McKinnon, Director of Ceilcote 'We no longer spend money on producing brochures and have cut back substantially on advertising so getting traffic to our website is the lifeblood of the company and our source of growth. So it goes without saying that having a great SEO partner is absolutely critical to us'.
As many companies have found, the SEO market can be difficult to navigate and finding the right partner something of an ordeal. Ceilcote had worked with a couple of SEO agencies where they were locked in to a contract. The claims for the SEO services never materialised resulting in a very bad experience.
'I went to an SEO seminar and shared my experiences and was recommended some companies that were doing SEO the right way. As we had learnt a lot from our previous bad experiences we grilled Total SEO before deciding to go with them.
'A key factor for going with them is that they said there is no lock-in. They were happy to be judged on results so if we didn't like what they did or the business didn't benefit we could just walk away'.
Our work
Total SEO have been working with Ceilcote for over a year. The initial phase of work involved ensuring the website was structured and working in the right way.
This was followed by intensive on and off-site optimisation to help grow the trust, authority and momentum with Google.
Total SEO provide Ceilcote with a dedicated day to day account manager, this means there is only one point of contact who has a close working relationship with the client, the account manager ensures they fully understand the clients business and the goals that need to be achieved and they also make sure everything is being done to get the very best results.
'I can call at any time; they explain anything I don't understand; they are good with content and pictures and they are very, very good communicators. SEO is not my forte so I can't keep up with the changes – they do and they make it work'.
The results
'Total SEO have been fantastic. We are where we want to be in terms of search results and we get the traffic that enables us to grow the business. All I ask is that they keep doing what they are doing!'
89% of the client's keywords are now ranking on the first page of the search engines.
82 % of the keywords are at the top position in searches.
20% of the keywords are now in the top 3 positions.
Average Ranking Position Trend

Average ranking position in May 2015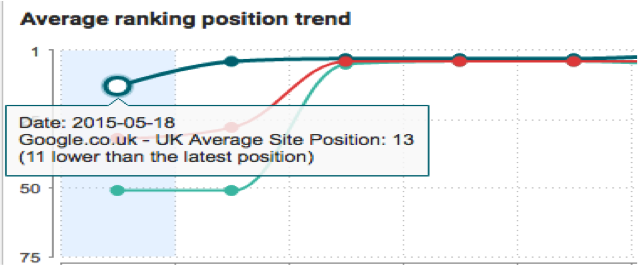 Average ranking position in September 2016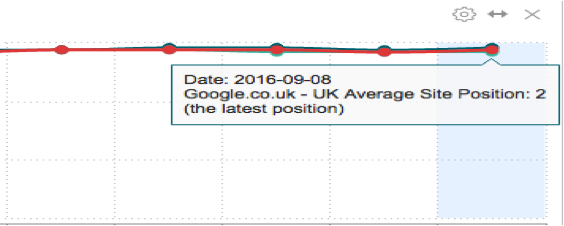 'Trust comes from results. Total SEO asked us to trust them that they would prove their worth and they have done just that. They are a very important arm of my business and I have happily put them forward to other business contacts'.